Photo Albums
Share photos of your region and events with APOonline's photo album manager. All of your region's photos all in once place.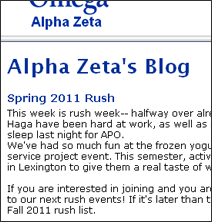 Region Blog
Tell the world about what's going on in your region through your very own region blog!
Achievements
Create custom achievements for your region to encourage your members to stay active in the fraternity.
Leaderboards
See how you match up against other brothers in your chapters, sections, region, and even across the nation in terms of service.